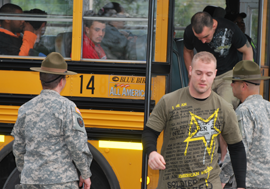 Welcome to FutureSoldiers.com
This website contains information to prepare you, the Future Soldier mentally, physically, and emotionally for the rigors of Initial Entry Training and Beyond. This site also provides information to your family members and influencers by providing links to agencies that support the family as well as answering many commonly asked questions.
I AM A FAMILY MEMBER OF A FUTURE SOLDIER / OFFICER
Family Members: Click here to access information designed to assist families of future soldiers

Training Locations

Guides & Resources


Chat Schedule
Future Soldiers Chat Hours
Monday - Friday : 1000-1400 EST
Monday - Friday : 1800-2200 EST

Future Soldier Training
The Future Soldier Training is now available.
Referral Program
Interested in earning a promotion, or even more as a Future Soldier?