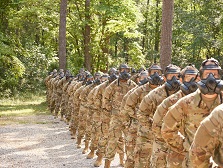 Family Services
The Exceptional Family Member Program (EFMP)
The Exceptional Family Member Program (EFMP) is a mandatory enrollment program that works with other military and civilian agencies to provide comprehensive and coordinated community support, housing, educational, medical and personnel services to Families with special needs. Soldiers on active duty enroll in the program when they have a Family member with a physical, emotional, developmental or intellectual disorder requiring specialized services so their needs can be considered in the military personnel assignment process.
Family members must be screened and enrolled, if eligible, when the Soldier is on assignment instructions to an OCONUS area for which command sponsorship / Family member travel is authorized, and the Soldier elects to serve the accompanied tour. This screening consists of medical records review for all Family members, and developmental screening for all children 72 months of age and younger. Soldiers are responsible for keeping their EFMP enrollment current as exceptional Family member (EFM) conditions change or at least every three years, whichever comes first.
Child & Youth Services
Army Child and Youth Services provide affordable child-care programs for Army Families. Costs are typically based on rank and pay grade. Programs range from day-care facilities to sports and fitness programs.
Child development centers provide full-day care, part-day care and hourly care for children 6 weeks to 5 years of age.
Family child-care homes offer full day, hourly, extended hours and long-term care in government quarters and off-post residences.
School-age services deliver before- and after-school care during the school year and camps during vacations.
Middle school/teen programs focus on sports and fitness, life skills and leadership, arts and recreation and mentoring and education for youth grades six through 12.
Sports and fitness programs are available for children up to 18 years of age and include team sports, individual sports, fitness and outreach.
Youth education support services include school transition support, instructional programs, youth sponsorship and home-school support.
Outreach programs include referrals to off-post child-care programs, parent co-ops, trained babysitters for evening hourly care and partnerships with community organizations.
Morale, Welfare, and Recreation (MWR)
The U.S. Army also offers a network of support and leisure services for Soldiers and their Families. The Army Morale, Welfare and Recreation program delivers a wide array of recreation, sports, entertainment, travel and leisure activities for Soldiers and their Families worldwide.
Army Community Services (ACS)
We equip people with the skills and support they need to face the challenges of military life... today as well as tomorrow. ACS's mission is to deliver accurate and timely individualized services to promote the readiness and resilience of the Total Army Family.
We Recognize...
The commitment and increasing sacrifices that our Families are making every day.
The strength of our Soldiers comes from the strength of their Families.
We are committed to...
Providing Soldiers and Families a Quality of Life that is commensurate with their service.
Providing our Families a strong, supportive environment where they can thrive.
Building a partnership with Army Families that enhances their strength and resilience.
We are committed to Improving Family Readiness by:
Standardizing and funding existing Family programs and services
Increasing accessibility and quality of health care
Improving Soldier and Family housing
Ensuring excellence in schools, youth services and child care
Expanding education and employment opportunities for Family members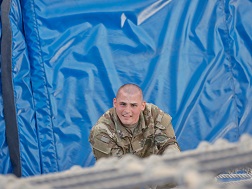 Behind Every Great Soldier is a Great Family
Welcome to the United States Army Future Soldier's website.
A member of your Family is about to join the ranks of millions of young men and woman from all walks of life who will shape the Army of the future. Each of these Future Soldiers share something special, they are about to become something larger than what they were before.
The Army is dedicated to taking care of our soldiers. This dedication doesn't stop with our current and Future Soldiers. The Army is dedicated to providing you with the support and information you need in this important part of your soldier's life. The Future Soldiers Family Member and Influencer section of the site is specially designed for you. In this area, we will be adding content and information especially for you.
Army OneSource
Army OneSource (AOS) is a Secretary of the Army Initiative to provide comprehensive community support and service delivery for Service members and their Families regardless of component or geographic location. Army OneSource is helping communities mobilize by creating State Alliances. Through the development of State Alliances, AOS is creating a community support system. State Alliances
Army OneSource State Alliances build community capacity to provide services that improve outcomes for Service members and their Families. Alliances include civilian service and support systems critical to successfully mitigating the negative consequences of the combat experience.
Behavioral Health Alliances - National and State level agencies, associations, educational institutions, and first responders engaged in educating the behavioral health community on military culture and best practices for assessing and treating behavioral health issues resulting from the trauma of war thereby improving access to care.
Legal Alliances - Legal associations and law schools aimed at educating legal professionals and students on the unique legal needs of Service members and engaging them in providing pro-bono services and military legal support.
Faith based Alliances - Military Chaplains, national faith-based organizations, clergy, and local churches who are building services and support to meet the spiritual and emotional needs of Service members and their Families.
Financial Alliances - DoD approved financial institutions and professional associations working to raise awareness of the financial challenges of Service members and increasing the use of financial readiness tools and training among Military Families.
Community Support Coordinators
Army OneSource Community Support Coordinators (CSCs) are responsible for building service capacity for geographically dispersed Service members and their Families through the mobilization of the community. CSCs accomplish this by:
Developing executive-level relationships in public, private and non-profit circles within the areas of behavioral health, finance, legal, and faith.
Conducting on-going assessments of their state to identify the most critical Service member/Family member needs and service gaps.
Bringing real time data about Military Family needs into the state and local planning processes.
Initiating state-level "Alliances" which are sharply focused on building service capacity in the areas of greatest need.
Helping communities develop a focus on Service member issues as well as the capacity of state and community systems to respond.
Elevating the visibility and needs of the often isolated and invisible Service member, Family member and Veteran.
Post housing for Soldiers and their Families
The military considers the welfare of Soldiers their Families to be one of its most important endeavors. In addition to the healthcare, retirement, education, and extra-curricular opportunities the Army provides, it goes to great lengths to assure each Soldier and each Family has adequate housing. The Army has recently spent time and money to renovate and create new housing communities for its Soldiers and for Soldiers with Families.
Single Soldier Living
Today's single Soldier barracks are not what your father remembers. As the Army has renovated its single Soldier housing system it has built its new accommodations with the Soldier's needs and suggestions in mind.
The Army's single Soldier barracks have been renovated or newly constructed with the needs of the Soldier in mind. Usually a Soldier will find general purpose wash rooms somewhere in the barracks for washing boots, backpacks, and other muddy items so they don't have to clean their equipment in their bathrooms. He or she will also find the Army has built living accommodations that Soldiers don't have to share with each other. Today's living quarters are generally attached to a bathroom and an apartment-style kitchen area that two Soldiers share, and some rooms are built with walk-in closets that even have industrial hooks mounted on the wall for military issue gear.
Family Housing
The military considers the welfare of Soldiers their Families to be one of its most important endeavors. In addition to the healthcare, retirement, education, and extra-curricular opportunities the Army provides, it goes to great lengths to assure each Soldier and each Family has adequate housing. The Army has recently spent time and money to renovate and create new housing communities for its Soldiers and for Soldiers with Families.
In the Army married Soldier's live with their Families, and when the Army constructed and renovated its housing communities it solicited and then incorporated the ideas of Soldiers and their Families. Some of the suggestions the Army adopted included more closet space, ceiling fans, yard space, and larger living areas. As always, each of its housing units comes with a refrigerator, stove and many come with a dishwasher. Separate laundry rooms and garages are also included in many of the Army's Family housing, and in some areas Soldiers and Family members can find trails on which to run. Housing areas also include playgrounds for younger children, outdoor basketball courts and they are built with sidewalks and plenty of street lights for the safety of all the residents.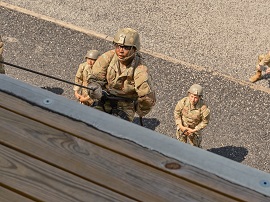 Family Readiness Program
COMFORT FOR YOU WHILE THEY'RE AWAY!!!!
One day, orders will come and your Soldier will be deployed for a time. A military deployment means that your Soldier will be transferred to another place in the world to fulfill their contract of service. It will happen. There's no hiding that. Does this mean that they'll be placed in a place of danger? No. It merely means that they'll be away from you and the entire Family. This is understandably quite often the single hardest thing a Family can go through--everything from waiting for information to looking forward to every scrap of communication, no matter how small. You might even feel alone. But you're not. The Army Family is a strong one, with deep reserves of community and care to support all Families through this time. Next door is someone who's going through what you are or recently has. Across the street is someone else to be leaned on, talked with, or be there just to listen. In the Army Family, you're never alone.
Family Readiness Group (FRG)
This program is a command-sponsored organization of Family members, volunteers, Soldiers and civilian employees associated with a particular unit. They are normally organized at company and battalion levels, and fall under the responsibility of the unit's commanding officer.
FRG's are established to provide activities and support to enhance the flow of information, increase the resiliency of unit Soldiers and their Families, provide practical tools for adjusting to military deployments and separations, and enhance the well-being and esprit de corps within the unit. The activities emphasized will vary depending on whether the unit is in pre/post deployment, deployed, or in a training/sustainment period at home station. Since one of the goals of an FRG is to support the military mission through provision of support, outreach, and information to Family members, certain FRG activities are essential and common to all groups, and include member meetings, staff and committee meetings, publication and distribution of newsletters, maintenance of viral FRG websites, maintenance of updated rosters and readiness information, and member telephone trees and e-mail distribution lists.
Ideally, all Army units, both active and reserve, sponsor FRGs as an avenue of mutual support and assistance, and as a network of communications among the Family members, the chain of command, chain of concern, and community resources. The FRG also provides feedback to the command on the state of the unit "Family" and is considered a unit commander's program.