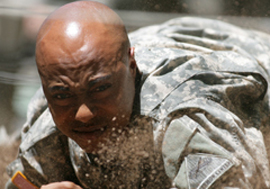 Welcome to the Team
To assist you in reaching your goal of successfully completing Army Basic Training, we are providing the following Mobile Applications. The mobile applications do NOT substitute for the FSTS and other training you must complete prior to shipping.
Applications for iOS Devices
Applications for Android Devices
Links
Downloads
Follow Us
What's on your mind? What's going on? Future Soldiers and families share!
Facebook

Stay connected with other Future Soldiers and Family members in real-time. Learn what's next and discuss what's important to you.

Future Soldier Center

Future Soldier Family

Twitter

Follow us on Twitter to stay connected on latest news and updates, retweet our photos!

@FUTURE_SOLDIERS

YouTube

Subscribe to our Future Soldier and Future Soldier Family, watch exclusive content of current training, MOS and more, share with your friends!

Future Soldier Center

Google+

Get in our circle and see what other Future Soldiers are up to while you are on the go!

Future Soldier Center



Flickr

Subscribe to our Flickr page, look at photos, comment, share. Create your own photostream, share it with your friends.

Future Soldier Center

Tumblr

Receive more detailed information about your MOS, training, moving, and education. Reblog your favorite story!

Future Soldier Center
I AM A FAMILY MEMBER OF A FUTURE SOLDIER / OFFICER
Family Members: Click here to access information designed to assist families of future soldiers

Training Locations

Guides & Resources


Chat Schedule
Future Soldiers Chat Hours
Monday - Friday : 1000-1400 EST
Monday - Friday : 1800-2200 EST

Future Soldier Training
The Future Soldier Training is now available.
Referral Program
Interested in earning a promotion, or even more as a Future Soldier?